Birds of the Pacific Flyway - pdf version now available!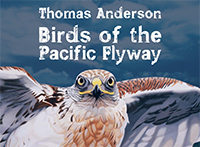 PREVIEW AND BUY! How does one survive in a world one has never fit into? How does one find anything of meaning and value in an absurd world that's in constant diametric opposition to one's spirit? Through 120+ of my drawings and paintings, and six personal essays, Birds of the Pacific Flyway answers those questions. Birds of the Pacific Flyway is a visual document of birds, plants, and landscapes of the Pacific Coast of North America that are likely to cease to exist in my lifetime because of climate change, collective apathy, and human overpopulation. It is the condensed history of a unique and specific coastal wetland ecosystem within the Pacific Flyway, the Bolsa Chica Ecological Reserve. It is a testimony of the challenges facing the environmental education nonprofit organization, Amigos de Bolsa Chica, which prevented residential development in the wetland. It is a memoir of my obsession with birds and a commentary on being an artist. Birds of the Pacific Flyway exists to inspire or incite whoever finds it.

Place de la Concorde Magpies selected for inclusion in the California Watercolor Association's 47th Annual National Exhibition, Harrington Gallery, Pleasanton, California, January 14 - February 15, 2017
Shine selected for inclusion in Wildscapes, The Bennington Center for the Arts, Bennington, Vermont, June - August, 2016.
Banquet selected for inclusion in the Society of Animal Artist 56th Annnual Exhibition, Houston Museum of Natural Science, Houston Texas, September - December, 2016.
Amigos de Bolsa Chica Volunteer Appreciation Picnic, May 31, 2015
A Resolution from the California State Assembly, courtesy of Assemblyman Travis Allen, 72nd Assembly District: for my many years of contributions to environmental preservation in California through my volunteer service with Amigos de Bolsa Chicaon June 29, 2014.
Doheny State Beach Visitor Center Mural Project ("Watershed" triptych) opened April 11, 2014.
2013 Independent Publisher Book Awards, Category of Children's Interactive Books, Bronze award for "Amigos de Bolsa Chica: Coastal Wetlander Activity Book," Edited by Thomas Anderson.